COLT'S FOOT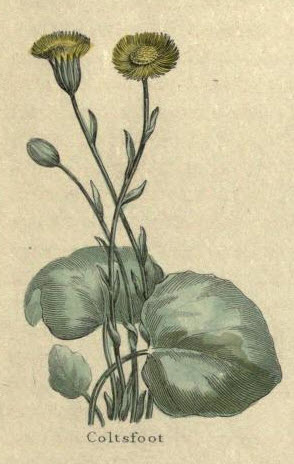 Colt's Foot
Description:
Tussilago, Farfara. Called also Cough-wort, Foal's-foot, Horse-hoof, and Bull's foot. It shoots up a slender stalk, with small yellowish flowers as large as those of the Dandelion; these come before the leaves; they fall away quickly, and then come round leaves, sometimes dented about the edges, with a little down or frieze over the green leaf on the upper side, which may be rubbed away, and whitish or meally underneath. The root is small and white, spreading much under ground. It grows in wet grounds and also in dry places. It flowers in February.
Herbal Remedies and Medicinal Uses of Colt's Foot:
It is a most valuable herb, and is not sufficiently appreciated. Its powerful expectorant qualities have rendered it celebrated as a remedy for coughs. It abounds with mucilage; it is slightly bitter; and possesses tonic and demulcent properties. A decoction is made by boiling a handful of the leaves in a quart of water till reduced to a pint, sweetened with Sugar Candy, and acidulated with a slice of Lemon. A wine-glassful may be taken three or four times a day. This is very useful in coughs and in all diseases of the lungs, shortness of breath, wheezing, etcetera. It thickens the expectoration when thin, and of course must allay inflammation. The Syrup of Colt's foot is much recommended by French physicians for chronic bronchitis. Boiled in milk it is excellent for consumptive patients with distressing coughs.

Dr. Cullen found this plant of great service in scrofulous diseases. He gave a decoction of the dried leaves, and found it succeed where other remedies had failed. Fuller relates that a girl with twelve scrofulous sores was cured by drinking daily as much as she could of a strong decoction. Dr. Percival found it useful in hectic diarrheas. A decoction with worm­wood has done wonders in calculous complaints. Sweetened with honey, it is good for colds and asthma.

The leaves are the basis of the British Herb Tobacco—to them are added the leaves of Eye-bright, Buckbean, Betony, Rosemary, Thyme, Lavender, and Camomile Flowers. This Tobacco is first-rate for Asthma. Let the Colt's foot preponderate.

Important Disclaimer: The information contained on this web site is for educational purposes only. It is not intended to diagnose, treat, or cure any diseases. Any information presented is not a substitute for professional medical advice and should not take the place of any prescribed medication. Please do not use this information to diagnose or treat a health problem or disease without consultation with your physician.

This page and the rest of the encyclopedia of medicinal herbs was reproduced from old herbals written in the 1700 and 1800s. They are of historical interest to show the traditional uses of various herbs based on folk medicine and ancient wisdom. However the traditional uses for these herbs have not been confirmed by medical science and in some cases may actually be dangerous. Do not use the these herbs for any use, medicinal or otherwise, without first consulting a qualified doctor.








Browse Herbs Alphabetically: A B C D E F G H I J K L M N O P Q R S T U V W X Y Z



Advertisement