RHODODENDRON.
This is a well-known beautiful garden shrub. It belongs to the natural order Ericoee. They all possess medicinal properties. The juice is acrid, and to some extent, narcotic. Hence the ancients said, that the honey obtained by the bees from the species, Azalea Pontica, made those mad who ate it. In Siberia, the Rhododendron Chrysanthemum is used as a remedy in rheumatism; an infusion of the leaves is taken, which causes a creeping or pricking sensation, which gradually subsides, and with it the rheumatic pains. It is good in palsy and syphilis. Those grown in our gardens have the same effect.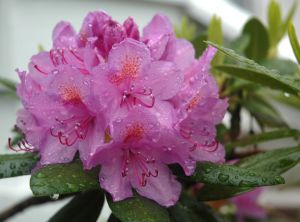 But skill, and caution are requisite in the use of their narcotic properties. Beautiful ornaments of gardens and shruberries, they are redolent with poison.
Important Disclaimer: The information contained on this web site is for educational purposes only. It is not intended to diagnose, treat, or cure any diseases. Any information presented is not a substitute for professional medical advice and should not take the place of any prescribed medication. Please do not use this information to diagnose or treat a health problem or disease without consultation with your physician.

This page and the rest of the encyclopedia of medicinal herbs was reproduced from old herbals written in the 1700 and 1800s. They are of historical interest to show the traditional uses of various herbs based on folk medicine and ancient wisdom. However the traditional uses for these herbs have not been confirmed by medical science and in some cases may actually be dangerous. Do not use the these herbs for any use, medicinal or otherwise, without first consulting a qualified doctor.



Browse Herbs Alphabetically: A B C D E F G H I J K L M N O P Q R S T U V W X Y Z



Advertisement