POMEGRANATE.
Punica Granatum.—It belongs to the natural order of Myrtaceae. This tree grows in Asia and Africa, and in warm countries generally. It yields a pleasantly acid and sweetish fruit, which is used for the same purpose as the orange. The flowers, the rind of the fruit, and the bark of the root, have been used in medicine, as astringents. The bark is powerfully astringent, and is employed, in decoction, as a gargle for sore throats. It is also given in diarrhea, and as an injection in leucorrhoea, and the powder in intermittent fever; close 20 grains.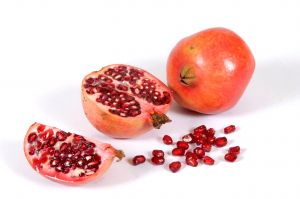 The natives of India give it as a vermifuge. The bark of the root is reckoned a powerful remedy for tape­worm. Dr. Christian says, "It seems scarcely ever to fail, if properly used."-Steep 2 ounces of the fresh bark in 2 pints of water for 12 hours; then boil down to 1 pint, strain, and give a wine-glassful every two hours till the whole is taken. Sometimes joints of the worm come in less than an hour after the last dose; but often the doses must be repeated several successive mornings before the effect is complete; and it is right to repeat occasionally for 4 or 5 days after joints have ceased to come away. Laxatives should be administered from time to time.
Important Disclaimer: The information contained on this web site is for educational purposes only. It is not intended to diagnose, treat, or cure any diseases. Any information presented is not a substitute for professional medical advice and should not take the place of any prescribed medication. Please do not use this information to diagnose or treat a health problem or disease without consultation with your physician.

This page and the rest of the encyclopedia of medicinal herbs was reproduced from old herbals written in the 1700 and 1800s. They are of historical interest to show the traditional uses of various herbs based on folk medicine and ancient wisdom. However the traditional uses for these herbs have not been confirmed by medical science and in some cases may actually be dangerous. Do not use the these herbs for any use, medicinal or otherwise, without first consulting a qualified doctor.



Browse Herbs Alphabetically: A B C D E F G H I J K L M N O P Q R S T U V W X Y Z



Advertisement