PEPPER.
Black and White Pepper are the fruit of the Piper Nigrum, belonging to the natural order Piperaceae. It is a shrubby, creeping plant, growing wild in the East Indies, but chiefly in Java, Sumatra, Borneo, Malacca, etcetera. The berries are gathered before they are ripe, and are dried in the sun; their taste is hot and fiery, and their smell is slightly aromatic. White Pepper is the fruit of the same plant, gathered after it is fully ripe, and freed of its external coat by maceration in water. It is smooth on the surface, and less pungent than the Black Pepper.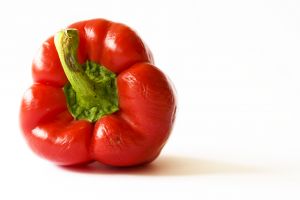 Pepper is mostly used as a corrective of the coldness and flatulence of a vegetable diet, and is much adapted for warm climates, where the food is naturally aqueous, and of a cold nature. Hence we use it with most vegetables, especially cucumbers and peas, and as a condiment to fish. Medicinally, it is aromatic, carminative, and stimulant. It assists digestion, and gives tone to the stomach, if taken moderately. In gout, dropsy, rheumatism, cold phlegmatic habits, the use of Pepper is advisable, and taken in a large dose, it is said to cure intermittents. In incipient quinsies, before the tumour has broken, a basin of gruel well-seasoned with Pepper, taken at bed-time, will resolve it. Ward's Paste, so celebrated for the cure of chronic piles, is chiefly composed of Pepper, which has been given in gonorrhea, and applied as ointment to ringworms. As an antiflatulent it is mixed with other medicines, Mixed with bread, as a poultice, it has proved beneficial in tic doloreux, and other neuralgic pains. It is much recommended in palsy.
Ward's Paste for Piles.-1 ounce of Black Pepper, finely powdered, 1 ounce of Elecampane Root, 3 ounces of Fennel Seed, well mixed. Melt together 2 ounces of Sugar, and 2 ounces of clarified Honey, for a Syrup, which add to the mixed powder, triturate them well. Take the size of a nutmeg twice a day; wash well down with a glass of cold water or white wine.
Important Disclaimer: The information contained on this web site is for educational purposes only. It is not intended to diagnose, treat, or cure any diseases. Any information presented is not a substitute for professional medical advice and should not take the place of any prescribed medication. Please do not use this information to diagnose or treat a health problem or disease without consultation with your physician.

This page and the rest of the encyclopedia of medicinal herbs was reproduced from old herbals written in the 1700 and 1800s. They are of historical interest to show the traditional uses of various herbs based on folk medicine and ancient wisdom. However the traditional uses for these herbs have not been confirmed by medical science and in some cases may actually be dangerous. Do not use the these herbs for any use, medicinal or otherwise, without first consulting a qualified doctor.



Browse Herbs Alphabetically: A B C D E F G H I J K L M N O P Q R S T U V W X Y Z



Advertisement