FENNEL
Herbal Remedies and Medicinal Uses of Fennel: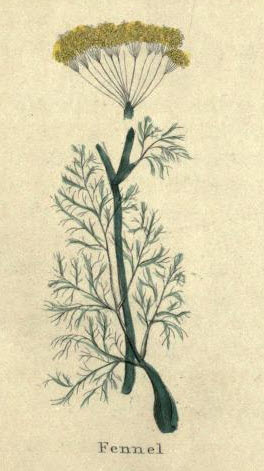 Fennel
One good old custom is not yet left off, viz. to boil Fennel with fish, for it consumes that phlegmatic humour, which fish copiously produces, though few know why they use it. Fennel is an expellant of wind. It is a good diuretic, and remedy for gravel and urinary diseases. The leaves or seeds boiled in barley water and drunk, are good for nurses, to increase their milk, and snake it more wholesome for the child.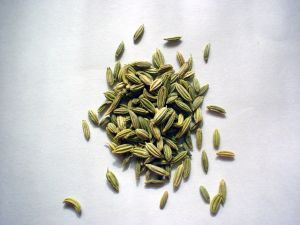 The leaves or seeds boiled in water, stay hiccough, and remove nausea and heat of the stomach. The seed boiled in wine is good for those who have eaten poisonous herbs, or mushrooms. The seeds and the roots open obstructions of the liver, spleen and gall, and are good in the yellow jaundice. The seed is good in medicines for shortness of breath, and wheezing. It promotes the flow of the menses. The whole plant is a remedy for obesity, or over-fatness. The juice dropped into the eyes, cleanses them from mists and films that hinder the sight. The Sweet Fennel is much weaker in physical uses than the Common Fennel. The Wild Fennel is stronger and hotter than the Tame, and therefore most powerful against the stone, but not so effectual to increase milk, because of its dryness.
See also Hog's Fennel
Important Disclaimer: The information contained on this web site is for educational purposes only. It is not intended to diagnose, treat, or cure any diseases. Any information presented is not a substitute for professional medical advice and should not take the place of any prescribed medication. Please do not use this information to diagnose or treat a health problem or disease without consultation with your physician.

This page and the rest of the encyclopedia of medicinal herbs was reproduced from old herbals written in the 1700 and 1800s. They are of historical interest to show the traditional uses of various herbs based on folk medicine and ancient wisdom. However the traditional uses for these herbs have not been confirmed by medical science and in some cases may actually be dangerous. Do not use the these herbs for any use, medicinal or otherwise, without first consulting a qualified doctor.



Browse Herbs Alphabetically: A B C D E F G H I J K L M N O P Q R S T U V W X Y Z



Advertisement