FIG TREE.
Description:
Ficus. A shrub grown in some gardens, especially in the south of England.
Herbal Remedies and Medicinal Uses of Fig Tree:
The milk that issues from the leaves or branches when they are broken off, being dropped upon warts, takes them away. The decoction of the leaves is good to wash sore heads with; and there is scarcely a better remedy for the leprosy. It clears the face from scurvy, and the body from scurf, scabs, and running sores. A decoction of the leaves, or a syrup made of them, dissolves congealed blood, caused by bruises or falls, and it allays bloody flux. A syrup made of the leaves, or green fruit, is good for coughs, hoarseness, shortness of breath, and all diseases of the lungs; also dropsy, and falling sickness. Figs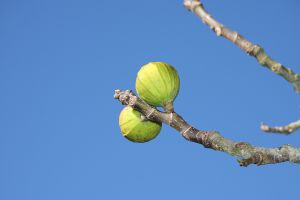 The DRIED FIGS of the grocers are the fruit of the same tree in Spain and Portugal, but they grow larger there, and ripen better. The pulp is wholesome, and rather aperient; but the tough skin should not be eaten by the dyspeptic. Green figs grown in this country arc more laxative than the preserved ones from abroad, but they have an unpleasant flavour. The finest come from Turkey. Figs arc sometimes used externally, boiled in milk, or roasted. They are applied to boils, or small abscesses, to promote suppuration;—they are very appropriate to gum-boils. They make a good demulcent gargle for sore throats, thus;—Mallow Roots, 1 ounce; or if they cannot be obtained, Linseed, 1 ounce, 3 figs, split open; water 2 pints; boil to a pint, and strain.
Important Disclaimer: The information contained on this web site is for educational purposes only. It is not intended to diagnose, treat, or cure any diseases. Any information presented is not a substitute for professional medical advice and should not take the place of any prescribed medication. Please do not use this information to diagnose or treat a health problem or disease without consultation with your physician.

This page and the rest of the encyclopedia of medicinal herbs was reproduced from old herbals written in the 1700 and 1800s. They are of historical interest to show the traditional uses of various herbs based on folk medicine and ancient wisdom. However the traditional uses for these herbs have not been confirmed by medical science and in some cases may actually be dangerous. Do not use the these herbs for any use, medicinal or otherwise, without first consulting a qualified doctor.



Browse Herbs Alphabetically: A B C D E F G H I J K L M N O P Q R S T U V W X Y Z



Advertisement