FEVERFEW, OR FEATHERFEW
Description: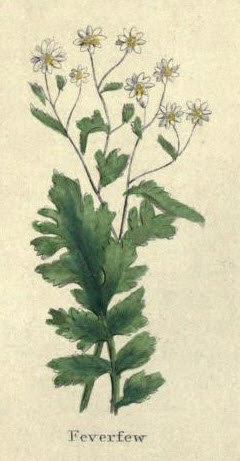 Feverfew
Pyrethrum Parthenium. It grows wild about farmers' yards, and is cultivated in gardens, and ought to be more so, on account of its medicinal uses. It has divided leaves, and many flowers like daisies. The stalk is round, hollow, upright, branched, two feet high. The flowers stand about the tops of the stalks, white round the edges and yellow in the middle. The root is small, but has strong fibres. More ...
Herbal Remedies and Medicinal Uses of Feverfew:
The whole plant is to be used. It is to be given in decoction, or infusion. It is very appropriate to female complaints. The infusion is excellent for profuse menstruation. Combined with wormwood and chamomile flowers, it greatly assists in child-birth.
Add also St. John's Wort, and you have a capital fomentation for severe after-pains, flatulency, and colic. It is beneficial in inflammation and hardness of the womb. With hot water it makes a very good sitz-bath in cases of difficult travail. A decoction with sugar or honey, is good for coughs, wheezing, and difficult breathing. The powder in wine with oxymel of squills, removes phlegm, and oppression of the chest. The herb bruised and applied to the crown of the head, relieves headaches, and swimming in the head.
The decoction drank warm, and the herb bruised with a little bay-salt, and applied to the wrist, previous to the Ague-fits coming on, wards them off. The herb bruised and heated, or fried with a little wine and oil, is a warm external application for wind and colic. It is a good remedy for over-doses of Mercury.
Links to more information about feverfew:
Important Disclaimer: The information contained on this web site is for educational purposes only. It is not intended to diagnose, treat, or cure any diseases. Any information presented is not a substitute for professional medical advice and should not take the place of any prescribed medication. Please do not use this information to diagnose or treat a health problem or disease without consultation with your physician.

This page and the rest of the encyclopedia of medicinal herbs was reproduced from old herbals written in the 1700 and 1800s. They are of historical interest to show the traditional uses of various herbs based on folk medicine and ancient wisdom. However the traditional uses for these herbs have not been confirmed by medical science and in some cases may actually be dangerous. Do not use the these herbs for any use, medicinal or otherwise, without first consulting a qualified doctor.



Browse Herbs Alphabetically: A B C D E F G H I J K L M N O P Q R S T U V W X Y Z



Advertisement