CURRANTS,—RED AND BLACK.
Description:
The former Ribes Nigrum, BLACK CURRANT, has a more astringent taste than the red or white, and is somewhat aromatic. The fruit in the form of preserve or jam, is very useful in colds, fevers, and coughs. The fruit is an expectorant, or having a tendency to loosen phlegm, and allay irritation in the mucous membrane. It is also useful in sore throats, and it gently acts upon the bowels. Black Currant leaves are used in infusion, as a domestic diuretic. Boiling water is poured upon a quantity of the preserve, as a remedy for fevers, coughs, etcetera., forming one of the pleasantest and most useful of our fever beverages.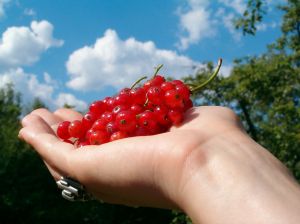 The RED CURRANT, Ribes Alpinum; its fruit is very whole­some, disagrees with few, and is particularly well adapted, either fresh or cooked, to form part of the cooling diet requisite for health in very hot weather. The mechanical action of its seed has a most beneficial effect in exciting the bowels. Some bilious persons say they find benefit from eating a few ripe red currants a short time before breakfast, and that the practice tends to prevent bilious attacks during the hot weather, when currants are in season.

Important Disclaimer: The information contained on this web site is for educational purposes only. It is not intended to diagnose, treat, or cure any diseases. Any information presented is not a substitute for professional medical advice and should not take the place of any prescribed medication. Please do not use this information to diagnose or treat a health problem or disease without consultation with your physician.

This page and the rest of the encyclopedia of medicinal herbs was reproduced from old herbals written in the 1700 and 1800s. They are of historical interest to show the traditional uses of various herbs based on folk medicine and ancient wisdom. However the traditional uses for these herbs have not been confirmed by medical science and in some cases may actually be dangerous. Do not use the these herbs for any use, medicinal or otherwise, without first consulting a qualified doctor.








Browse Herbs Alphabetically: A B C D E F G H I J K L M N O P Q R S T U V W X Y Z



Advertisement