VANILLA
It is the fruit of the Vanilla Aromatica, a creeping shrub of the Orchis tribe, growing on the mountains of Mexico and Peru, and South America. This fruit has a strong, peculiar, and agreeable odour, a warns aromatic, and sweetish taste; it appears to contain benzoic acid. As sold in the shops, vanilla is a shrivelled pod of the kidney-bean shape, 6 inches long, wrinkled, feels oily, and adhesive to the fingers, has a balsamic odour, a taste like prunes, with the flavour of burning pantiles. It is used by perfumers, confectioners, and distillers, and to give a balsamic flavour to confectionary; and it is employed in small quantities as an adjunct to chocolate, to which it gives sweet­ness and a delicate flavour. It is valuable to the perfumer, the odour of the substance being one of the most exquisite imaginable. Medicinally vanillait assists the digestion, and restores the impaired gastric forces; it gives tone to the stomach, strengthens the intestines and heart, gives vigour and activity to the brain and the mental powers; therefore it is valuable to dyspeptic and persons nervously low.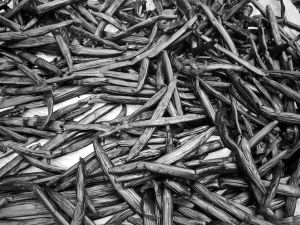 Important Disclaimer: The information contained on this web site is for educational purposes only. It is not intended to diagnose, treat, or cure any diseases. Any information presented is not a substitute for professional medical advice and should not take the place of any prescribed medication. Please do not use this information to diagnose or treat a health problem or disease without consultation with your physician.

This page and the rest of the encyclopedia of medicinal herbs was reproduced from old herbals written in the 1700 and 1800s. They are of historical interest to show the traditional uses of various herbs based on folk medicine and ancient wisdom. However the traditional uses for these herbs have not been confirmed by medical science and in some cases may actually be dangerous. Do not use the these herbs for any use, medicinal or otherwise, without first consulting a qualified doctor.



Browse Herbs Alphabetically: A B C D E F G H I J K L M N O P Q R S T U V W X Y Z



Advertisement