NUTMEG TREE.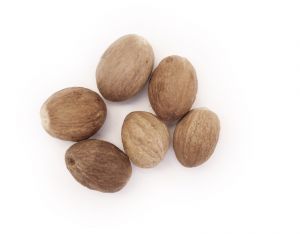 Description:
Nux moschata. A tall, spreading tree, native only of the warm climates; the trunk is large, and the branches are numerous and irregular; the bark is of a greyish colour, and the wood light and soft. The haves are large, long, and somewhat broad: they are not unlike those of the bay tree, but larger and are of a beautiful green on the upper side, and whitish underneath. They stand irregularly, but often so nearly opposite, that they seem in pairs, as we see in the leaves of some of our willows. The blossom is of the shape and size of our cherry tree, but its colour is yellow. The fruit which succeeds this, is of the size of a small peach, and not unlike it in the general form; when cut open there appears first the fleshy coat, which is a finger thick, and of a rough taste, then the mace spread over a woody shell, in which is the nutmeg. We often have the whole fruit sent over preserved.
Herbal Remedies and Medicinal Uses of Nutmeg:
The nutmeg is an excellent spice, it strengthens the stomach, and assists digestion. It will stop vomitings, and is good against the cholic. When roasted be­fore the fire, and mixed with a small quantity of rhubarb, it is the best of all remedies against purgings.
Important Disclaimer: The information contained on this web site is for educational purposes only. It is not intended to diagnose, treat, or cure any diseases. Any information presented is not a substitute for professional medical advice and should not take the place of any prescribed medication. Please do not use this information to diagnose or treat a health problem or disease without consultation with your physician.

This page and the rest of the encyclopedia of medicinal herbs was reproduced from old herbals written in the 1700 and 1800s. They are of historical interest to show the traditional uses of various herbs based on folk medicine and ancient wisdom. However the traditional uses for these herbs have not been confirmed by medical science and in some cases may actually be dangerous. Do not use the these herbs for any use, medicinal or otherwise, without first consulting a qualified doctor.



Browse Herbs Alphabetically: A B C D E F G H I J K L M N O P Q R S T U V W X Y Z



Advertisement