THISTLE,---BLESSED.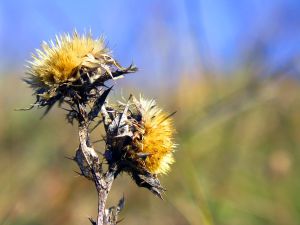 Description:

—Carduus Benedictus.—This plant is anative of the warmer countries, and is raised with us in gar- dens. It is two feet high; the stalk is reddish, slender, and weak; very much branched, and scarce able to keep upright under the weight of leaves and heads. The leaves are long, narrow, cut in on both sides, and of an obscure green, The flowers are yellow; they stand in a kind of green leafy heads : the little leaves composing these heads are prickly; and each of the cups of the flowers ends in a long brown spine, dented on both sides.
Herbal Remedies and Medicinal Uses of Thistle (Blessed Thistle):

—It is bitter and stomachic. An infusion of it taken in large quantities, will excite vomiting : in smaller draughts, it is good to create an appetite, and prevents sickness and retchings. The leaves dried and powdered, are good against worms. It was at one time supposed to possess very great virtues against fevers of all kinds : but that is now disregarded.

Important Disclaimer: The information contained on this web site is for educational purposes only. It is not intended to diagnose, treat, or cure any diseases. Any information presented is not a substitute for professional medical advice and should not take the place of any prescribed medication. Please do not use this information to diagnose or treat a health problem or disease without consultation with your physician.

This page and the rest of the encyclopedia of medicinal herbs was reproduced from old herbals written in the 1700 and 1800s. They are of historical interest to show the traditional uses of various herbs based on folk medicine and ancient wisdom. However the traditional uses for these herbs have not been confirmed by medical science and in some cases may actually be dangerous. Do not use the these herbs for any use, medicinal or otherwise, without first consulting a qualified doctor.








Browse Herbs Alphabetically: A B C D E F G H I J K L M N O P Q R S T U V W X Y Z



Advertisement