SORREL, WOOD.
Description: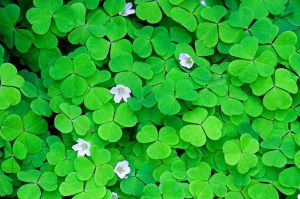 —Oxalis Acetosella.—This is a different plant from the former. It grows upon the ground, having leaves coming from the root comprising three leaves, like trefoil, broad at the ends, and cut in the middle, of a yellowish green colour, each standing on a long foot-stalk, which at first are folded together, to the stalk, till they expand; they have an acid taste. The juice turns red when it is clarified and makes a fine clear syrup. Among these leaves rise up tender, weak footstalks, with a flower at the top, comprising five small-pointed leaves, star-fashion, of a white colour, and in some with a small show of bluish, on the back side only. After the flowers follow small round heads, containing small yellow seeds. The roots are yellowish, small, and fibrous. The herb grows in woods, and wood sides. It flowers in April and May.
Herbal Remedies and Medicinal Uses of Sorrel Wood:

—This is more effectual than the other Sorrels in preventing putrefaction of blood, and ulcers in the mouth and body, to quench thirst, to strengthen a weak stomach, procure an appetite, stay vomiting, and to prevent contagious sickness or fevers. It operates by urine, and removes obstructions in the viscera. The syrup made of the juice and the distilled water of the herb are equally effectual. Sponges or linen cloths saturated with the juice, and applied to any hot swelling or inflammation, tends to reduce them. The juice gargled in the mouth repeatedly, is a remedy for canker or ulcers therein. It is very good to heal wounds, or to stay bleedings. Salts of Lemon, is obtained from this plant, used to take ink-spots out of linen, and Oxalic Acid also, both rank poisons.

Important Disclaimer: The information contained on this web site is for educational purposes only. It is not intended to diagnose, treat, or cure any diseases. Any information presented is not a substitute for professional medical advice and should not take the place of any prescribed medication. Please do not use this information to diagnose or treat a health problem or disease without consultation with your physician.

This page and the rest of the encyclopedia of medicinal herbs was reproduced from old herbals written in the 1700 and 1800s. They are of historical interest to show the traditional uses of various herbs based on folk medicine and ancient wisdom. However the traditional uses for these herbs have not been confirmed by medical science and in some cases may actually be dangerous. Do not use the these herbs for any use, medicinal or otherwise, without first consulting a qualified doctor.








Browse Herbs Alphabetically: A B C D E F G H I J K L M N O P Q R S T U V W X Y Z



Advertisement