SAGE.
Salvia Officinalis.—The common garden Sage has tonic properties, as its aromatic odour and bitter taste indicate. It is often made into tea, and is tonic, astringent, and carminative; as a gargle with vinegar, or honey and alum, it is good for in­flamed throats, or relaxed uvula. It removes obstructions of the kidneys, and of the menstrual flux. Orpheus says, three spoonfuls of the juice of Sage, taken fasting with a little honey, arrests spitting or vomiting of blood.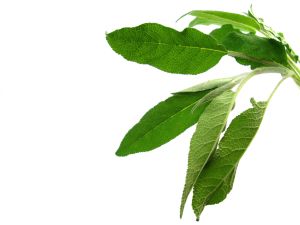 These pills are much commended : take of spikenard, ginger, of each two drachms , of the seed of Sage, eight drachms , of long pepper, twelve drachms , all being powdered, add as much juice of Sage as may make them into pills, taking a drachm every morning fasting, and at night, drinking water after them. Mathiolus says, it is very good for pains in the head, coming of cold and rheumatic humours; for all pains in the joints, and for the falling sickness, lethargy, palsy, and is of much use for diseases of the chest or breast. The leaves of Sage and nettles bruised together, and laid upon imposthumes behind the ears, cures them.

The juice of Sage taken in warm water relieves hoarseness and cough. Sage taken with wormwood is good for the bloody-flux. And with other hot herbs, Sage is boiled to bathe the body and legs in the Summer time, especially to warm cold joints or sinews, troubled with cramp, and to strengthen the parts. The volatile oil is sometimes prescribed in doses of 1 or 2 drops. It is a useful ingredient in embrocatigns for rheumatism. An infusion is very cooling in fevers, a little lemon-juice being added. It cleanses and purifies the blood.

Important Disclaimer: The information contained on this web site is for educational purposes only. It is not intended to diagnose, treat, or cure any diseases. Any information presented is not a substitute for professional medical advice and should not take the place of any prescribed medication. Please do not use this information to diagnose or treat a health problem or disease without consultation with your physician.

This page and the rest of the encyclopedia of medicinal herbs was reproduced from old herbals written in the 1700 and 1800s. They are of historical interest to show the traditional uses of various herbs based on folk medicine and ancient wisdom. However the traditional uses for these herbs have not been confirmed by medical science and in some cases may actually be dangerous. Do not use the these herbs for any use, medicinal or otherwise, without first consulting a qualified doctor.








Browse Herbs Alphabetically: A B C D E F G H I J K L M N O P Q R S T U V W X Y Z



Advertisement