RYE.
Rye is one of the cereals whose cultivation has been a great blessing to man. Its botanical name is Secale Cereale. It produces a nutritious flour having less bran and more farina than wheat has though darker in colour. It is not so nutritious as wheat, but it is easier to digest, and it slightly promotes the action of the bowels. It makes excellent poultices for imposthumes, boils, and other swellings. Rye-meal moistened with vinegar, placed between a cloth, and well heated in an oven, and applied to the head, very much relieves its pains. Ergot of Rye, or the Spurred Rye, is a diseased production which grows on the ear of Rye. It is of a poisonous nature. This substance has however been employed as a child-bed remedy. Its great influence over the uterine system is undoubted. It is the only medicine now employed as an exeitent of the womb, or to rouse the energies of that organ in cases of lingering labour. Dose from five to twenty-five grains in powder. It is good also for Leucorrhaea. Matthiolus says that the ashes of Rye straw steeped in water twenty-four hours, will cure chapped hands.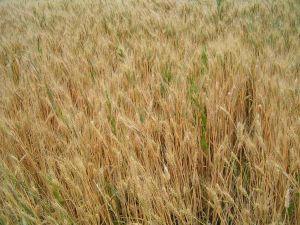 Important Disclaimer: The information contained on this web site is for educational purposes only. It is not intended to diagnose, treat, or cure any diseases. Any information presented is not a substitute for professional medical advice and should not take the place of any prescribed medication. Please do not use this information to diagnose or treat a health problem or disease without consultation with your physician.

This page and the rest of the encyclopedia of medicinal herbs was reproduced from old herbals written in the 1700 and 1800s. They are of historical interest to show the traditional uses of various herbs based on folk medicine and ancient wisdom. However the traditional uses for these herbs have not been confirmed by medical science and in some cases may actually be dangerous. Do not use the these herbs for any use, medicinal or otherwise, without first consulting a qualified doctor.



Browse Herbs Alphabetically: A B C D E F G H I J K L M N O P Q R S T U V W X Y Z



Advertisement