RASPBERRY.
This well-known plant is the Rubus Maus of botanists. In some parts it grows wild, but is usually cultivated in gardens. Its fruit is fragrant, sub-acid, and cooling. It is very wholesome, and allays heat and thirst better than any other kind of fruit, except Strawberry, which it equals. Both of them are not liable to acetous fermentation in the stomach. Raspberry Jam is one of the most pleasant and wholesome of confections. In fever and feverish diseases generally, when the acid is not an objection, the well-known Raspberry Vinegar is an agreeable and salutary beverage. It is an excellent gargle for sore throats. When the acid is not proper, a pleasant beverage is made by mixing the preserve or jam, with water. An infusion or decoction of Raspberry leaves is a sure remedy for great laxity of the bowels. I have known this prove effectual in the severest cases.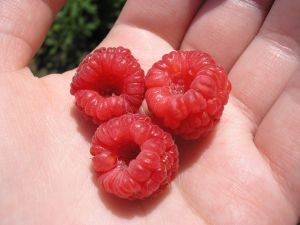 Important Disclaimer: The information contained on this web site is for educational purposes only. It is not intended to diagnose, treat, or cure any diseases. Any information presented is not a substitute for professional medical advice and should not take the place of any prescribed medication. Please do not use this information to diagnose or treat a health problem or disease without consultation with your physician.

This page and the rest of the encyclopedia of medicinal herbs was reproduced from old herbals written in the 1700 and 1800s. They are of historical interest to show the traditional uses of various herbs based on folk medicine and ancient wisdom. However the traditional uses for these herbs have not been confirmed by medical science and in some cases may actually be dangerous. Do not use the these herbs for any use, medicinal or otherwise, without first consulting a qualified doctor.



Browse Herbs Alphabetically: A B C D E F G H I J K L M N O P Q R S T U V W X Y Z



Advertisement