PEPPERMINT.
Description:

—Mentha Piperata.—It is a garden plant, much like the Wild Mint. It grows two feet and a half high. The stalk is square, firm, and upright, of a pale green. The leaves stand two at each joint; broad, not very long, dark green, deeply serrated at the edges. The flowers grow in thick spikes, not long, yet large and pale red. The smell is fragrant and agreeable, the taste hot, like pepper.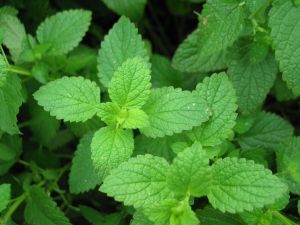 Herbal Remedies and Medicinal Uses of Peppermint:

—The whole plant is used fresh or dried; but the distilled water is the best. It cures the colic, often almost instantaneously, and is good against the gravel. Peppermint Water should be distilled from the fresh plant. To 1 gallon of water, and 8 ounces of Proof Spirit, put 21/2 lbs. of fresh Peppermint. Distil one gallon. But Peppermint Water is now generally made by rubbing down the oil with a little lump sugar, and a few drops of spirits of wine, and then filtering it. The oil is peculiarly pungent, very carminative andstimulant, which render it very useful in indigestion, flatulence, and diarrhoea. The dose of this oil is from 1 to :3 or 4 drops. It may be taken in water or any other vehicle. It has the same virtues as the other Mints, but more powerful. The infusion of the leaves is very useful in bowel complaints, as laxity especially, and flatulency.

Important Disclaimer: The information contained on this web site is for educational purposes only. It is not intended to diagnose, treat, or cure any diseases. Any information presented is not a substitute for professional medical advice and should not take the place of any prescribed medication. Please do not use this information to diagnose or treat a health problem or disease without consultation with your physician.

This page and the rest of the encyclopedia of medicinal herbs was reproduced from old herbals written in the 1700 and 1800s. They are of historical interest to show the traditional uses of various herbs based on folk medicine and ancient wisdom. However the traditional uses for these herbs have not been confirmed by medical science and in some cases may actually be dangerous. Do not use the these herbs for any use, medicinal or otherwise, without first consulting a qualified doctor.








Browse Herbs Alphabetically: A B C D E F G H I J K L M N O P Q R S T U V W X Y Z



Advertisement