HEMLOCK.
Description: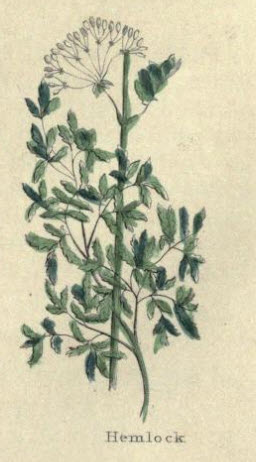 Hemlock


Conium Maculatum. The common great spotted Hemlock has a green stalk, four or five feet high, or more, sometimes full of red spots, and at the joints very large winged leaves which are divided into many other winged leaves, one set against the other, dented at the edges, of a sad green colour, branched towards the top, where it us full of umbels or white flowers which produce whitish flat seed; the root is long, white, crooked, and hollow within. It has a very disagreeable smell. It grows throughout the land, by walls and hedge sides, in waste grounds and untilled places.
Herbal Remedies and Medicinal Uses of Hemlock:
Hemlock is poisonous. Do not use it at all.
Important Disclaimer: The information contained on this web site is for educational purposes only. It is not intended to diagnose, treat, or cure any diseases. Any information presented is not a substitute for professional medical advice and should not take the place of any prescribed medication. Please do not use this information to diagnose or treat a health problem or disease without consultation with your physician.

This page and the rest of the encyclopedia of medicinal herbs was reproduced from old herbals written in the 1700 and 1800s. They are of historical interest to show the traditional uses of various herbs based on folk medicine and ancient wisdom. However the traditional uses for these herbs have not been confirmed by medical science and in some cases may actually be dangerous. Do not use the these herbs for any use, medicinal or otherwise, without first consulting a qualified doctor.



Browse Herbs Alphabetically: A B C D E F G H I J K L M N O P Q R S T U V W X Y Z



Advertisement