HART'S TONGUE.
Description: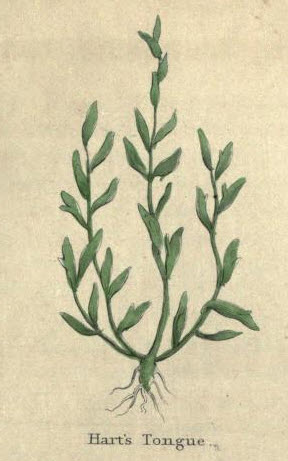 Hart's Tongue


Scolopendrium Vulgaris.-It is always green, though it has fresh leaves in Spring. It has several leaves arising from the root, which fold themselves in their first springing and spreading: when full grown they are about a foot long, smooth and green above, but hard, with little sap, and streaked on the back, thwart on the sides of the middle rib with small and rather long brownish marks; the bottoms of the leaves are a little bowed on each side of the middle rib, rather narrow and small at the end. The root has many black threads interlaced together. It is green all the Winter; but new leaves spring every year.
Herbal Remedies and Medicinal Uses of Hart's Tongue:
It is an excellent purifier and strengthener of the liver, and it ought to be more extensively known.

Important Disclaimer: The information contained on this web site is for educational purposes only. It is not intended to diagnose, treat, or cure any diseases. Any information presented is not a substitute for professional medical advice and should not take the place of any prescribed medication. Please do not use this information to diagnose or treat a health problem or disease without consultation with your physician.

This page and the rest of the encyclopedia of medicinal herbs was reproduced from old herbals written in the 1700 and 1800s. They are of historical interest to show the traditional uses of various herbs based on folk medicine and ancient wisdom. However the traditional uses for these herbs have not been confirmed by medical science and in some cases may actually be dangerous. Do not use the these herbs for any use, medicinal or otherwise, without first consulting a qualified doctor.








Browse Herbs Alphabetically: A B C D E F G H I J K L M N O P Q R S T U V W X Y Z



Advertisement