FOX GLOVE.
Description: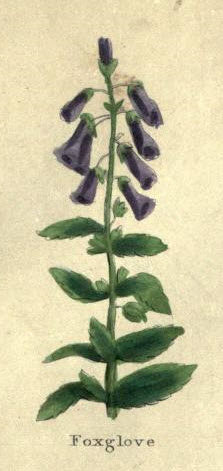 Foxglove
Digitalis Purpurea, of the natural order of Scrophulariaceae. Its stalk is erect, tapering, rising four or five feet. The leaves are large, oval, wrinkled, veined, on short wing foot stalks, and are downy underneath. The flowers hang down; they are a reddish purple, bell-shaped, marked internally with little dark-coloured spots placed in whitish rings, and long hairs defend the entrance of the tube; so that no in­sects can enter. The flower-stalks vary in length; at first they depend like the flowers, afterwards they become erect, when they elevate a two-celled capsule containing blackish seeds. This most elegant, but very poisonous plant, unless skillfully and carefully administered, is very common in Britain, in dry sandy soils, by hedge-sides. It flowers in July, and seeds in August.
Herbal Remedies and Medicinal Uses of Fox Glove:
Its properties are narcotic, diuretic, and sedative. Useful in inflammatory diseases. The pulse is sometimes remarkably diminished by its use, and sometimes as remarkably resists the powers of this remedy. Dr. Thornton says, "We have seen the pulse sink down, in a patient at Guy's Hospital, to 13 beats a minute, and in other instances, as much as 3 ounces of the tincture have been taken without any alteration in the pulse. In severe colds, and inflammations of the lungs, the digitalis has been administered instead of bleeding; and also in measles."
Considering that scarlet fever is a mixture of high inflammation and putrid diathesis, confluent, or the one running into the other, this remedy was tried by us in large doses, as 20 drops of the Tincture of Digitalis with ten drops of antimonial wine, in children of twelve years of age and under; and in a large experience in the St. James's Charity School, and in private practice, we have had abundant reason to approve of this discovery, whereby even in the most desperate cases none have died."
In active hemorrhages, and in phthis, the foxglove has a beneficial effect; it lowers the pulse without at the same time diminishing the strength, and it should be in tincture, beginning with two or three drops at first twice or thrice a day, gradually increasing to twenty or thirty drops. It is also used with great advantage in all kinds of dropsical swellings. Dr. Withering says, "If dropsy can be cured at all, it can be cured by foxglove; for if this fails, there is little chance of any other succeeding." "In dropsy of the chest," says Dr. Graham, "It is considered by some able physicians to be superior to every other remedy. It is of great service in other kinds of dropsy, especially in the dropsy supervening scarlet fever; and its beneficial effects are more certainly obtained in those constitutions, in which there is laxity of fibre, pale complexion, feeble intermitting pulse, cold skin, and where the swelling easily pits. It has been found of great value, when conjoined with nitric acid, in the dropsy which occurs in broken-down constitutions that have been long harassed by mercury."
It has also been used successfully in mania, arising from an effusion of water on the brain. "In paroxysms of insanity," says Dr. Graham, "it will act as a valuable narcotic and sedative, provided the inflammatory symptoms be first controlled by the usual means, and hence also it appears fitted rather for the advanced than the early stages of consumption."
It was in scrofulous tumours that foxglove first acquired its reputation. Haller reports that a scorbutic leprosy was cured by a long use of this plant; and that Zeyter, by bruising its flowers, along with lard, cured glandular tumours, and that a deplorable case of Evil yielded to this remedy. The expressed juice mixed with linseed meal has been found a successful topi­cal application in several cases when the medicine was also used internally. In spasmodic asthma, the greatest advantage has been realized, probably by producing absorption, and strengthening the habit, for foxglove acts as a tonic. The ancient opinion of epilepsy often yielding to the use of foxglove is confirmed by modern experience. Where this disorder has been induced by a determination of blood to the head, modern practitioners have succeeded in removing this afflictive disorder.
The herb is much used by the Italians to heal any fresh and green wound; they bruise the leaves, and bind them on the wound. In the form of ointment (made of the juice and lard) foxglove is applied to scrofulous sores with good effect; and this ointment is one of the best remedies for scabbed head.
For Pills, each should contain a grain of powdered leaves- one to be taken twice a day, and gradually increased till its effects are apparent either on the kidneys, the stomach, the pulse, or the bowels; then discontinue.—In dropsy it may be repeated after an interval, if all the water has not left.— Infusion; —macerate in a pint of boiling water 2 drachms of the dried leaves, adding 1 ounce of spirit of Cinnamon; — dose from two to six drachms twice or thrice a day.— Tincture;— Dried leaves of foxglove, in coarse powder; proof spirit, one pint, digest for 7 to 20 days, and filter; dose, from 6 to 15 drops a day. During the administration, drink freely of diluting drinks. A little sweet nitre with the infusion or decoction counteracts nausea and flatulence.
The Tincture, with Soap Liniment, may be rubbed into the chest, or other parts to relieve pain; and a strong infusion of the leaves may be applied warm to the abdomen to produce diuresis in dropsy. To counteract the deleterious effects of an over dose, use laudanum in brandy and water, or ammonia, small doses of opium, or a strong infusion of green tea.
Important Disclaimer: The information contained on this web site is for educational purposes only. It is not intended to diagnose, treat, or cure any diseases. Any information presented is not a substitute for professional medical advice and should not take the place of any prescribed medication. Please do not use this information to diagnose or treat a health problem or disease without consultation with your physician.

This page and the rest of the encyclopedia of medicinal herbs was reproduced from old herbals written in the 1700 and 1800s. They are of historical interest to show the traditional uses of various herbs based on folk medicine and ancient wisdom. However the traditional uses for these herbs have not been confirmed by medical science and in some cases may actually be dangerous. Do not use the these herbs for any use, medicinal or otherwise, without first consulting a qualified doctor.



Browse Herbs Alphabetically: A B C D E F G H I J K L M N O P Q R S T U V W X Y Z



Advertisement