FLUELLEN.
Description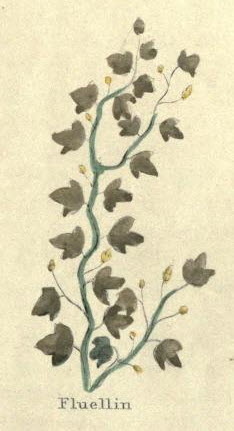 Fluellin
Antirhinon Elatine. There are two kinds of Fluellen. The first sends forth many long branches, partly lying upon the ground, and partly standing upright with almost red leaves, a little pointed, and sometimes more long and round, without order, hairy, and greenish white at the joints of the stalks, and with the leaves come forth small flowers, one at a place, upon a very short foot stalk, somewhat like snapdrag­ons, or rather like toad-flax, with the upper jaw of a yellow and the lower of a purplish colour with a small heel or spur behind; after which come forth small brown heads, containing small black seed. The root is small and thready, dying every year.
The other sort has longer branches, wholly trailing upon the ground, two or three feet long, and thinner, set with leaves upon small foot-stalks. The leaves are a little larger and rounder, and cornered sometimes on the edges; but the lower part of them being the broadest, has on each side a small point, like ears, sometimes hairy, but not hoary, and a better green colour than the former. The flowers come forth like the former, but the colours therein are more white than yellow, and the purple not so fair. They grow in corn-fields, and in borders about them, and in other fertile grounds chiefly in the south of England.
Herbal Remedies and Medicinal Uses of Fluellen:
The leaves bruised and applied with barley meal to watering eyes hot and inflamed by defluxions from the head, very much relieve them, as also the bloody- flux, women's courses, and bleeding at the nose, mouth, etcetera. caused by any bruise or hurt, or bursting a vein; it is very effectual both to heal and close green wounds, to cleanse and heal all foul ulcers, sores, cankers, etcetera. Made into an ointment with hog's lard, and spermaceti, it is a good remedy for sores, cuts, bruuses, etcetera.
Important Disclaimer: The information contained on this web site is for educational purposes only. It is not intended to diagnose, treat, or cure any diseases. Any information presented is not a substitute for professional medical advice and should not take the place of any prescribed medication. Please do not use this information to diagnose or treat a health problem or disease without consultation with your physician.

This page and the rest of the encyclopedia of medicinal herbs was reproduced from old herbals written in the 1700 and 1800s. They are of historical interest to show the traditional uses of various herbs based on folk medicine and ancient wisdom. However the traditional uses for these herbs have not been confirmed by medical science and in some cases may actually be dangerous. Do not use the these herbs for any use, medicinal or otherwise, without first consulting a qualified doctor.



Browse Herbs Alphabetically: A B C D E F G H I J K L M N O P Q R S T U V W X Y Z



Advertisement