CROSSWORT.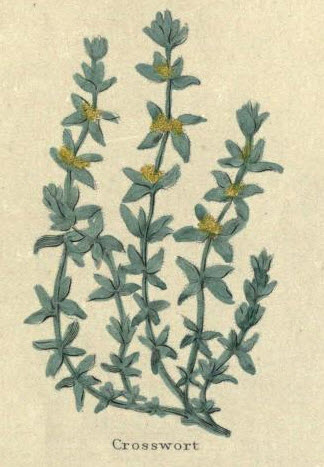 Crosswort
Description:
Cruciata. It is so called from the situation of its leaves. Common Crosswort has square hairy brown stalks, a little above a foot high, having four small broad and pointed, hairy, green leaves growing at every joint, each against other cross- way. Towards the tops of the stalks at the joints, with the leaves in three or four rows downwards, stand small, pale, yellow flowers. The root is very small and full of fibres. It grows in moist grounds, and meadows. It flowers from May all the Summer long.
Herbal Remedies and Medicinal Uses of Crosswort:
This is a very good wound herb, and is used inwardly, not only to stay bleeding of wounds, but to consolidate them, as it outwardly does any green wound, which it quickly healeth. The decoction of the herb in wine, raises phlegm from the chest, and is good for obstructions in the breast, stomach, or bowels, and it rectifies a decayed appetite. It is also good to wash any wound or sore with, to cleanse and heal it. The herb bruised and boiled, applied outwardly, and renewing it often; and in the mean time the decoction of the herb in wine taken inwardly every day, certainly cures rupture, if it be not too inveterate; but very speedily if it be fresh and of late occurence. It is a good remedy for fever, rheumatism and dropsy.

Important Disclaimer: The information contained on this web site is for educational purposes only. It is not intended to diagnose, treat, or cure any diseases. Any information presented is not a substitute for professional medical advice and should not take the place of any prescribed medication. Please do not use this information to diagnose or treat a health problem or disease without consultation with your physician.

This page and the rest of the encyclopedia of medicinal herbs was reproduced from old herbals written in the 1700 and 1800s. They are of historical interest to show the traditional uses of various herbs based on folk medicine and ancient wisdom. However the traditional uses for these herbs have not been confirmed by medical science and in some cases may actually be dangerous. Do not use the these herbs for any use, medicinal or otherwise, without first consulting a qualified doctor.








Browse Herbs Alphabetically: A B C D E F G H I J K L M N O P Q R S T U V W X Y Z



Advertisement