CHERVIL.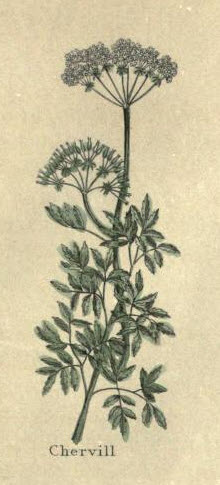 Chervil
Description:
Scandix Odorata. As a salad herb it is cultivated in gardens. It is like Parsley in its manner of growth; but after it is grown, the leaves rather resemble those of Hemlock, hairy, and sometimes rather red. The stalks are round, striated, hollow, and of a light green; they divide into several branches, and they grow two feet high. They bear white flowers in large tufts, which produce blackish seeds, of a sweet taste. It sometimes grows wild, two or three feet high, in meadows, by the hedge sides, and on heaths. It flowers and seeds early.
Herbal Remedies and Medicinal Uses of Chervil:
As a garden vegetable, it ought to be generally cultivated. The roots decocted work moderately by urine. As a vegetable they warm the stomach, and purify the blood. The leaves, combined with a few Hemlock leaves, made into a poultice, relieve the sore breasts of women giving suck; by removing the knotty pants, it causes the milk to flow freely. It should be applied warm. Applied to the belly it gives relief in gravel. It is an expectorant, and relieves Asthma, if boiled in whey. Bruised and applied, it removes swellings, and marks occasioned by blows or bruises.

Important Disclaimer: The information contained on this web site is for educational purposes only. It is not intended to diagnose, treat, or cure any diseases. Any information presented is not a substitute for professional medical advice and should not take the place of any prescribed medication. Please do not use this information to diagnose or treat a health problem or disease without consultation with your physician.

This page and the rest of the encyclopedia of medicinal herbs was reproduced from old herbals written in the 1700 and 1800s. They are of historical interest to show the traditional uses of various herbs based on folk medicine and ancient wisdom. However the traditional uses for these herbs have not been confirmed by medical science and in some cases may actually be dangerous. Do not use the these herbs for any use, medicinal or otherwise, without first consulting a qualified doctor.








Browse Herbs Alphabetically: A B C D E F G H I J K L M N O P Q R S T U V W X Y Z



Advertisement