CELANDINE,—GREAT.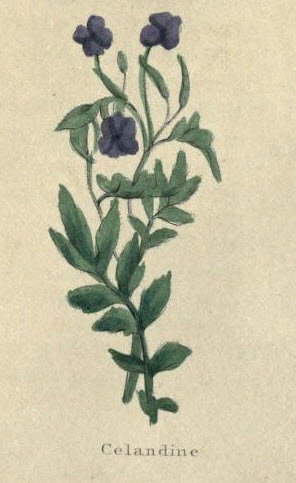 Celandine
Description:
Chelidonium Majus. A common wild plant having large leaves, and yellow flowers. It grows nearly three feet high. The stalks are tender, round, green and naked, with thick joints. This plant, when broken in any part, emits a yellow juice, bitter in taste, and strong in scent. The leaves stand two at each joint; they are large, long, and deeply divided at the edges, and are of a yellowish green. The flowers produce small long pods, with blackish seed.

They grow by old walls, hedges and way-sides, in untilled places, and in gardens. They flower all the Summer.
Herbal Remedies and Medicinal Uses of Calendine (Great Calendine):
It is a most valuable remedy for diseases of the eye, used as a docoction, or made into an ointment. The juice is the best way of administering it, it is an efficacious remedy for the jaundice, scurvy, and all obstructions of the liver and other viscera. The addition of a few aniseeds in making a decoction of it with wine, increases its efficacy in removing obstructions of the liver and gall. The juice applied to warts soon removes them, also ring-worms. The juice mixed with sulphur is a remedy for the itch. It has been given with great effect in scrofula. An ointment made of the roots and hog's lard is a good remedy for the piles. Boil them together.

Important Disclaimer: The information contained on this web site is for educational purposes only. It is not intended to diagnose, treat, or cure any diseases. Any information presented is not a substitute for professional medical advice and should not take the place of any prescribed medication. Please do not use this information to diagnose or treat a health problem or disease without consultation with your physician.

This page and the rest of the encyclopedia of medicinal herbs was reproduced from old herbals written in the 1700 and 1800s. They are of historical interest to show the traditional uses of various herbs based on folk medicine and ancient wisdom. However the traditional uses for these herbs have not been confirmed by medical science and in some cases may actually be dangerous. Do not use the these herbs for any use, medicinal or otherwise, without first consulting a qualified doctor.








Browse Herbs Alphabetically: A B C D E F G H I J K L M N O P Q R S T U V W X Y Z



Advertisement