WILD CARROTS
Description:
Description
Daucus Sylvestus. Garden Carrots need no description, but in medicine they are not so efficacious as the wild.

The Wild Carrot grows altogether like the garden but the leaves and stalks are whiter and rougher. The stalks bear large tufts of white flowers, with a deep purple spot in the middle, which arc contracted together when the seed begins to ripen, and the middle part being hollow and the outward stalk rising high, make the whole umbel appear like a bird's nest. The roots small, long, and hard, and unfit for meat, being sharp and strong. The wild kind grows by the field sides, and unfilled places. They flower and seed in the end of Summer.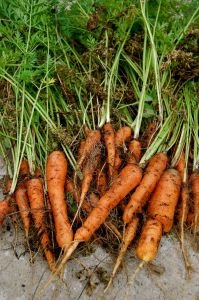 Herbal Remedies and Medicinal Uses of Carrots:
Wild Carrots expel wind, and remove stitches in the sides, promote urine and women's courses, and expel the stone. The seed also has the same effect, and is good for the dropsy, and for expelling wind. The leaves applied with honey cleanse running sores and ulcers. The seeds are anti flatulent, and an excellent diuretic.

Important Disclaimer: The information contained on this web site is for educational purposes only. It is not intended to diagnose, treat, or cure any diseases. Any information presented is not a substitute for professional medical advice and should not take the place of any prescribed medication. Please do not use this information to diagnose or treat a health problem or disease without consultation with your physician.

This page and the rest of the encyclopedia of medicinal herbs was reproduced from old herbals written in the 1700 and 1800s. They are of historical interest to show the traditional uses of various herbs based on folk medicine and ancient wisdom. However the traditional uses for these herbs have not been confirmed by medical science and in some cases may actually be dangerous. Do not use the these herbs for any use, medicinal or otherwise, without first consulting a qualified doctor.








Browse Herbs Alphabetically: A B C D E F G H I J K L M N O P Q R S T U V W X Y Z



Advertisement