CARAWAY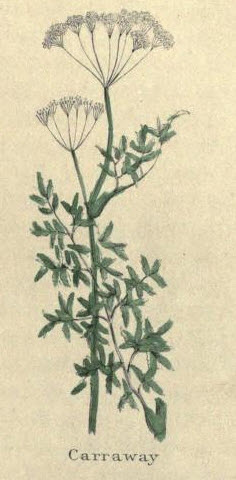 Caraway
Description:
Carum Carui. The Caraway is propagated chiefly for the seeds. It bears divers stalks of fine cut leaves a little like the leaves of carrots, from among which rise a square stalk, at whose joints are set leaves a little like those of the car­rot, but smaller, and at the top small umbels of white flowers, which turn into small blackish seed, which are well known. The root is whitish, small and long, like a parsnip, but with more wrinkled bark, and much less. It is usually sown in gardens. It flowers in July and seeds quickly after.


Herbal Remedies and Medicinal Uses of Caraway:
Caraway is a good remedy for expelling wind, and for colic. The young root is better food than par­snips; it is comfortable to the stomach, and promotes digestion. The powder of the seed made into a poultice, takes away black and blue spots produced by blows and bruises. The herb itself, or with some of the seed bruised, laid hot in a bag or double cloth to the lower part of the belly, removes wind and colic. Combined with senna, these seeds correct its griping effects. The oil of Caraway, given in six or eight drops on a lump of sugar, is good for pains of the stomach, heart-burn, etcetera.

Important Disclaimer: The information contained on this web site is for educational purposes only. It is not intended to diagnose, treat, or cure any diseases. Any information presented is not a substitute for professional medical advice and should not take the place of any prescribed medication. Please do not use this information to diagnose or treat a health problem or disease without consultation with your physician.

This page and the rest of the encyclopedia of medicinal herbs was reproduced from old herbals written in the 1700 and 1800s. They are of historical interest to show the traditional uses of various herbs based on folk medicine and ancient wisdom. However the traditional uses for these herbs have not been confirmed by medical science and in some cases may actually be dangerous. Do not use the these herbs for any use, medicinal or otherwise, without first consulting a qualified doctor.








Browse Herbs Alphabetically: A B C D E F G H I J K L M N O P Q R S T U V W X Y Z



Advertisement