BORAGE AND BUGLOSS.
Description:
Borago Officinalis, et Sycopsis. These are rough plants, common in gardens, with great leaves and beautiful blue flowers. They are so well known, as to need little description. There is a third kind called Languae de beoeuf. The leaves are smaller than those of bugloss, but much rougher; the stalk rises about a foot and a half high, and is mostly of a red colour; the flowers stand in scaly rough heads, being composed of many small yellow flowers, not unlike those of the dandelions, and the seed flies away in down; the flowers are very bitter. The virtues of this plant are the same as those of Borage and Bugloss. They flower in June and July, and the seed is ripe shortly after.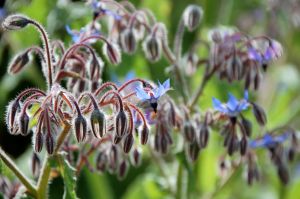 Herbal Remedies and Medicinal Uses of Borage:
All three are great cordials, and strengtheners of nature. The leaves and roots are very useful in putrid fevers, to defend the heart, and to expel the venom of other creatures. The seed and leaves are good to increase milk in women's breasts, and to drive away melancholy; to clarify the blood, and mitigate heat in fevers. The juice made into a syrup has the same effect, and is a valuable remedy for the yellow jaundice, the itch, ringworm, etcetera. The flowers candied or made into a conserve, are useful for persons weakened by long sickness, and for those who are subject to swoonings. The distilled water is as effectual, and cures inflammation of the eyes. The roots of Bugloss made into an eleetuary, promote expectoration, and remove a cough. They are excellent for affections of the lungs. A good way of taking it is to infuse it in wine, which partly neutralizes its nauseousness.

Important Disclaimer: The information contained on this web site is for educational purposes only. It is not intended to diagnose, treat, or cure any diseases. Any information presented is not a substitute for professional medical advice and should not take the place of any prescribed medication. Please do not use this information to diagnose or treat a health problem or disease without consultation with your physician.

This page and the rest of the encyclopedia of medicinal herbs was reproduced from old herbals written in the 1700 and 1800s. They are of historical interest to show the traditional uses of various herbs based on folk medicine and ancient wisdom. However the traditional uses for these herbs have not been confirmed by medical science and in some cases may actually be dangerous. Do not use the these herbs for any use, medicinal or otherwise, without first consulting a qualified doctor.








Browse Herbs Alphabetically: A B C D E F G H I J K L M N O P Q R S T U V W X Y Z



Advertisement