THE BIRCH TREE
Description:
Betula Alba. Its appearance in summer is elegant, and in winter the bark is frequently variegated with red and white streaks.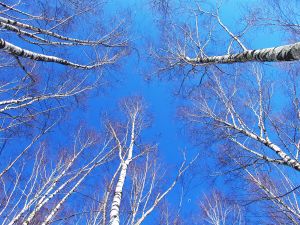 It is a tall straight tree, with many boughs, and slender branches bending downward; the old being covered with a discoloured chapped bark, and the younger being much browner. The leaves are dented about the edges. It bears small short catskins, somewhat like those of the hazlenut-tree, which growing ripe, fall on the ground, and their seed with them. It usually grows in woods.
Herbal Remedies and Medicinal Uses of Birch Tree:
The juice of the leaves, while young, or the distilled water of them, or the juice from the tree bored with an augur, and distilled afterwards, any of these being drunk for some days together, tends to break the stone in the kidneys and bladder, and is good also to wash sore mouths. The leaves have been used in the itch, dropsy, etcetera, either externally applied, or taken in decoction.

Birch-wine made from the juice of the tree, is an excellent remedy for consumptions, and scurvy; and the fungus which grows on the tree, is a good styptic.

Important Disclaimer: The information contained on this web site is for educational purposes only. It is not intended to diagnose, treat, or cure any diseases. Any information presented is not a substitute for professional medical advice and should not take the place of any prescribed medication. Please do not use this information to diagnose or treat a health problem or disease without consultation with your physician.

This page and the rest of the encyclopedia of medicinal herbs was reproduced from old herbals written in the 1700 and 1800s. They are of historical interest to show the traditional uses of various herbs based on folk medicine and ancient wisdom. However the traditional uses for these herbs have not been confirmed by medical science and in some cases may actually be dangerous. Do not use the these herbs for any use, medicinal or otherwise, without first consulting a qualified doctor.








Browse Herbs Alphabetically: A B C D E F G H I J K L M N O P Q R S T U V W X Y Z



Advertisement