OAK.
Herbal Remedies and Medicinal Uses of Oak:
Quercus Robur. This noble tree, the king of the forest, needs no description. The bark is a powerful astringent. The decoction is very useful in bloody flux, and spitting of blood. It is diuretic, causing the flow of urine. It has been given with advantage in intermittent fevers. Boil 10 drachms of the bruised bark in two pints of water until reduced to one pint; it may be used also as an injection, gargle, or lotion. This is very useful in chronic sore throat, with relaxed uvula.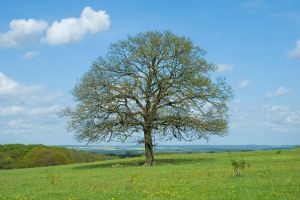 Galen applied the bruised leaves to heal wounds. It removes obstructions of the liver, and is useful in gravel. The water found in the hollow places in old oaks, is effectual in curing scabs, itch, etcetera. The distilled water of the leaves us a sovereign remedy. The decoction makes a first-rate wash for a rupture, if used early.
Important Disclaimer: The information contained on this web site is for educational purposes only. It is not intended to diagnose, treat, or cure any diseases. Any information presented is not a substitute for professional medical advice and should not take the place of any prescribed medication. Please do not use this information to diagnose or treat a health problem or disease without consultation with your physician.

This page and the rest of the encyclopedia of medicinal herbs was reproduced from old herbals written in the 1700 and 1800s. They are of historical interest to show the traditional uses of various herbs based on folk medicine and ancient wisdom. However the traditional uses for these herbs have not been confirmed by medical science and in some cases may actually be dangerous. Do not use the these herbs for any use, medicinal or otherwise, without first consulting a qualified doctor.



Browse Herbs Alphabetically: A B C D E F G H I J K L M N O P Q R S T U V W X Y Z



Advertisement