GINGER.
Amomum Zingiber. It is a perennial plant, indigenous in the East and West Indies, having stimulant, carminative, and tonic properties, which render it extremely valuable. It is very useful in cold flatulent colics, and in laxity and debility of the intestines, not heating so much as the peppers, and its effects are more durable. Persons subject to indigestion, flatulency, and gout, have been known to receive great benefit from the use of Ginger tea.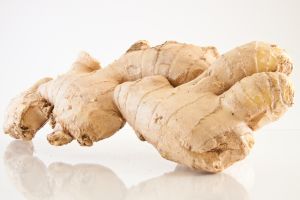 Many gouty patients have for years been in the habit of taking a tea-spoonful of powdered Ginger, mixed in any liquid, an hour before dinner, with considerable advantage. When employed with food, it is called a condiment, and by stimulating the stomach and bowels, it may be considered as one of the most useful. Combined with purgatives, it corrects their griping tendency, and it acts externally, like mustard, as a rubefacient, even raising a blister.

As Ginger promotes the circulation through the extreme vessels, it is to be advised in torpid and phlegmatic habits where the stomach is subject to be loaded with slime, and the bowels distended with flatulency.

Important Disclaimer: The information contained on this web site is for educational purposes only. It is not intended to diagnose, treat, or cure any diseases. Any information presented is not a substitute for professional medical advice and should not take the place of any prescribed medication. Please do not use this information to diagnose or treat a health problem or disease without consultation with your physician.

This page and the rest of the encyclopedia of medicinal herbs was reproduced from old herbals written in the 1700 and 1800s. They are of historical interest to show the traditional uses of various herbs based on folk medicine and ancient wisdom. However the traditional uses for these herbs have not been confirmed by medical science and in some cases may actually be dangerous. Do not use the these herbs for any use, medicinal or otherwise, without first consulting a qualified doctor.








Browse Herbs Alphabetically: A B C D E F G H I J K L M N O P Q R S T U V W X Y Z



Advertisement