DUCK WEED
Lemma Trisulca. This is so well known to swim on the top of standing water, as ponds, pools, etcetera., that it is needless to describe it.
Herbal Remedies and Medicinal Uses of Duck Weed: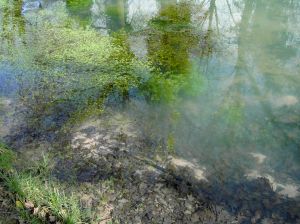 It reduces inflammations, and St. Anthony's fire, and the gout, either applied by itself, or in a poultice with barley meal. The distilled water by some is highly esteemed against all inward inflammations and pestilent fevers; inflammation of the eyes and swellings of the private parts, and of the breasts. The fresh herb applied to the fore­head, relieves head-ache arising from heat. It is a good remedy for the jaundice. Many have been cured by it alone. The juice is to be taken, and to be repeated for several days.
Important Disclaimer: The information contained on this web site is for educational purposes only. It is not intended to diagnose, treat, or cure any diseases. Any information presented is not a substitute for professional medical advice and should not take the place of any prescribed medication. Please do not use this information to diagnose or treat a health problem or disease without consultation with your physician.

This page and the rest of the encyclopedia of medicinal herbs was reproduced from old herbals written in the 1700 and 1800s. They are of historical interest to show the traditional uses of various herbs based on folk medicine and ancient wisdom. However the traditional uses for these herbs have not been confirmed by medical science and in some cases may actually be dangerous. Do not use the these herbs for any use, medicinal or otherwise, without first consulting a qualified doctor.



Browse Herbs Alphabetically: A B C D E F G H I J K L M N O P Q R S T U V W X Y Z



Advertisement