DOG'S GRASS, or COUCH GRASS.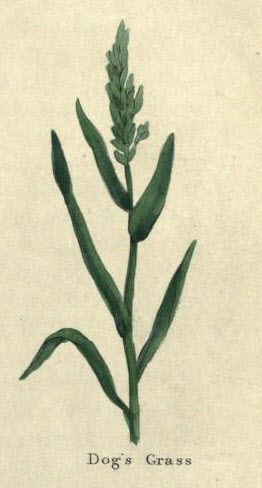 Dog's Grass
Description:
Canis Gramen. This is called Dog's Grass from its efficacy in relieving dogs when sick. It is well known, that the grass creepeth far about under the ground, with long white jointed roots, and small fibers almost at every joint, very sweet in taste, as the rest of the herb is, and interlacing one another, from whence shoot many fair grassy leaves, small at the ends, and sharp on the edges. The stalks are jointed like corn, with similar leaves, and a spiked head, with a long husk in it, and hard rough seed. Watch the dogs when they are sick, and they will lead you to it. It grows almost everywhere.
Herbal Remedies and Medicinal Uses of Dog's Grass:
It is the most medicinable of all the Quickgrasses. As a decoction it opens obstructions of the liver, gall, and urine; and eases the griping pains of the belly, and inflammation; and frets away stone in the bladder, and ulcers. The roots bruised and applied heal wounds. The seed is the most powerful. The distilled water with a little wormseed, kills worms in children.
The way is to bruise the roots, and having well boiled them, drink the decoction; it is opening, but not purging, very safe; a remedy against all diseases arising from obstructions; and fully one half of diseases spring from this cause; therefore this herb is invaluable.
Important Disclaimer: The information contained on this web site is for educational purposes only. It is not intended to diagnose, treat, or cure any diseases. Any information presented is not a substitute for professional medical advice and should not take the place of any prescribed medication. Please do not use this information to diagnose or treat a health problem or disease without consultation with your physician.

This page and the rest of the encyclopedia of medicinal herbs was reproduced from old herbals written in the 1700 and 1800s. They are of historical interest to show the traditional uses of various herbs based on folk medicine and ancient wisdom. However the traditional uses for these herbs have not been confirmed by medical science and in some cases may actually be dangerous. Do not use the these herbs for any use, medicinal or otherwise, without first consulting a qualified doctor.



Browse Herbs Alphabetically: A B C D E F G H I J K L M N O P Q R S T U V W X Y Z



Advertisement