ANGELICA.
Description: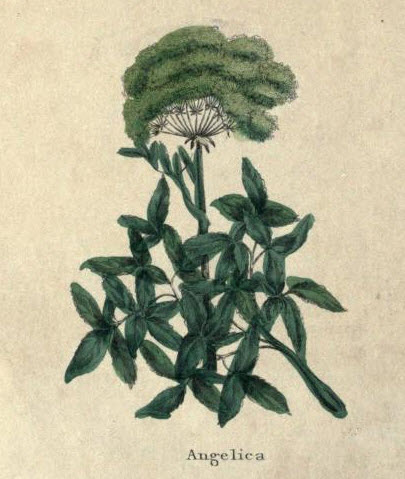 Angelica


—Angelica Archangelica, a plant of the natural order Umbellifeae or Apiacere. It is a large beautiful plant cultivated in gardens, and it grows wild in some parts. It grows eight feet high, the stalks are strong, and divided into branches. The leaves are large, each of which is composed of many smaller, set upon a divided pedicle. They are notched at the edges, and of a bright green. The flowers are small and white, but in large tufts of a globose form. Two seeds follow each flower, which seeds are flat on one side, on the other con­vex, and marked with three furrows. It flowers in July, and the seeds are ripe in September.
Herbal Remedies and Medicinal Uses of Angelica:

—The stalks, leaves, and seeds possess stimulant, carminative, and tonic properties, which are strongest in the latter. It has a pungent taste, and an agreeable aromatic odour. The whole plant has the same virtues. It is cordial and sudorific, and has always been reckoned good against pestilential and contagious diseases. The root is valuable; but the best roots come from Spain. Water distilled from the root removes flatulent pains, and pains arising from cold. This water with some of the powdered root is good in the pleurisy, diseases of the lungs and breast, as coughs, shortness of breath, and a syrup of the stalks has the same effects. It is good in the colic, stranguary, and stoppage of urine, and removes obstructions of the liver and spleen. The juice dropped into the eyes removes dimness of sight; and into the ears, deafness. Also some have found relief in tooth-ache by applying the juice. The juice or the root powdered, cleanses sores and ulcers, and the distilled water eases gout, sciatica, rheumatism. Dose, of the powdered root from 10 to 20 grains.—Distilled water, 1 ounce.—Extract from 5 to 15 grains.—Infusion, a tablespoonful or more.—Tincture, a drachm.—Spirits, from half a drachm to 3 drachms . Angelica Cordial.—A small handful of the Angelica stems, from which strip the leaves, and pick out the threads; then cut them into little pieces. To a pound put 12 pints of brandy, or more, two drachms of cinnamon, and one of mace, with 12 cloves; dissolve 4 pounds of sugar in 6 pints of water, and mix the whole in a jar that must he well corked, to stand for about 6 weeks; then filter it, and bottle for use. It is most serviceable in windy complaints.

Important Disclaimer: The information contained on this web site is for educational purposes only. It is not intended to diagnose, treat, or cure any diseases. Any information presented is not a substitute for professional medical advice and should not take the place of any prescribed medication. Please do not use this information to diagnose or treat a health problem or disease without consultation with your physician.

This page and the rest of the encyclopedia of medicinal herbs was reproduced from old herbals written in the 1700 and 1800s. They are of historical interest to show the traditional uses of various herbs based on folk medicine and ancient wisdom. However the traditional uses for these herbs have not been confirmed by medical science and in some cases may actually be dangerous. Do not use the these herbs for any use, medicinal or otherwise, without first consulting a qualified doctor.








Browse Herbs Alphabetically: A B C D E F G H I J K L M N O P Q R S T U V W X Y Z



Advertisement