AMARANTHUS
Amaranthus Blitum. It is also called Flower Gentle, Flower Velure, Floramor and Velvet Flower.
Description: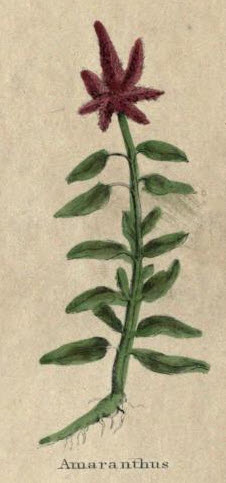 Amaranthus


—It is a garden flower, well known. It grows from one to two feet high, streaked, and red towards the root, but very smooth, divided towards the top with small branches, among which stand long broad leaves of a reddish green colour, slippery; the flowers are not properly flowers, but tufts, very beautiful, but of no smell, of a reddish colour; if bruised they yield juice of the same colour; being gathered they keep their beauty a long time; the seed is of a shining black colour. They flower from August till the frost nips them.
Herbal Remedies and Medicinal Uses of Amaranthus:

—There are several kinds of the Amaranthus; but that used in medicine is the large one with the drooping purple spike. The flowers dried and powdered are used as a styptic, arresting the profusion of Menses, diarrhoea, bleeding at the nose. etcetera. One species bears a white flower, which stops the whites and cleanses and strengthens the kidneys.

Important Disclaimer: The information contained on this web site is for educational purposes only. It is not intended to diagnose, treat, or cure any diseases. Any information presented is not a substitute for professional medical advice and should not take the place of any prescribed medication. Please do not use this information to diagnose or treat a health problem or disease without consultation with your physician.

This page and the rest of the encyclopedia of medicinal herbs was reproduced from old herbals written in the 1700 and 1800s. They are of historical interest to show the traditional uses of various herbs based on folk medicine and ancient wisdom. However the traditional uses for these herbs have not been confirmed by medical science and in some cases may actually be dangerous. Do not use the these herbs for any use, medicinal or otherwise, without first consulting a qualified doctor.








Browse Herbs Alphabetically: A B C D E F G H I J K L M N O P Q R S T U V W X Y Z



Advertisement